What to look for when buying riding breeches & jodhpurs
Any horse rider will tell you that ill-fitting jodhpurs or breeches are really uncomfortable. Given both are by nature a snug fit, it's so easy to go for the wrong size, or a pair that isn't cut to suit your body type. That's why it's so important to carefully evaluate which pair is right for you.
What are the differences?
Firstly: Jodhpurs (or jods). These are snug, tight-fitting trousers that reach the ankle. Whilst they are worn by both adults and kids, a lot of young people wear them, to help them adopt the correct leg position and grip. They are usually worn with ankle-high jodhpur or paddock boots.
While Breeches vary in terms of length and are very similar to jodhpurs, they tend to finish at the mid-calf area of the leg and are finished with elasticated cuffs. They are perhaps associated with schooling and more formal riding.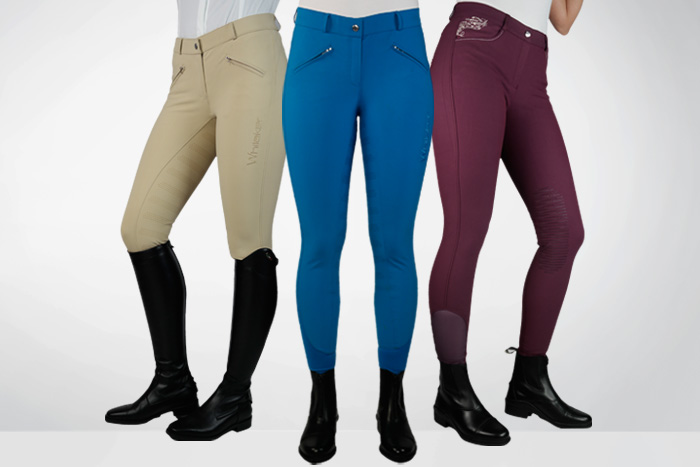 Essential equine gear
Most breeches and jodhpurs are naturally made from stretchy material such as lycra or spandex – or another similar fibre. This ensures they don't cling to your body, but move with you as you ride, providing a high degree of comfort and surety.
Both jodhpurs and breeches are purpose-designed for riding, so it's your decision. As soon as you start riding, you will need to invest in a good quality pair.
Both jodhpurs and breeches are purpose designed for riding, so it's your decision. As soon as you start riding, you will need to invest in a good quality pair.
What to look for in a great pair of jodhpurs/breeches
Aside from style (they come in various different colours) here are a few tips to consider when buying your riding pants:
Try on a number of makes and brands they do vary – you need to be sure they're a good fit for your body shape.

Darker jodhpurs/breeches might help to hide unsightly stains – bear in mind too that certain competitions may require you to wear a specific colour, ie: white, cream, so don't rush into a colour decision. You will almost certainly need more than one pair.

Whilst most equine and equestrian stores will stock lots of different brands and types, you may also find some in second hand shops, so it pays to have a look if only to rule this option out.

Buy a decent pair – they are an essential piece of riding gear.

Always take your waist and inseam measurements when you go shopping – this will ensure you get the right fit. Don't just guess fit when you are in the shop. If you feel uncomfortable in your riding pants, then it could be you have bought the wrong size. If in doubt, take them back and exchange.

Some riders prefer integral knee-patches – designed into the jodhpurs/breeches, this provides a high degree of movement around the knee. If you add your own knee patches to an existing pair of pants, you may not experience the same degree of comfort.
Many riders have chosen to wear Eldwick Breeches by Whitaker available in ladies sizes in a range of colours. For competition and casual riding, they feature 5 way stretch fabric and silicone knee patches.

Watch the above film that provides more details on the Eldwick breeches, including features and range of available colours. For more films showing Whitaker breeches, please click here to visit our video library.

John Whitaker and the Whitaker family are well known in the equine industry, particularly within the show jumping circuit. The exclusive Whitaker brand of equestrian clothing and products, including Brogini riding boots, are available through John Whitaker International (JWI). Combining superior quality with exceptional performance, the Whitaker brand has earned the respect of both amateur and professional riders across the globe.